Crestron + Microsoft: A collaboration that's been at work for over 15 years.
---
Enjoy a one-touch native Microsoft Teams experience everywhere
Crestron Flex video conferencing systems bring one consistent Microsoft Teams experience to any space, from a private office to a large training room
A solution for every space
Spaces may differ but your needs remain the same–effective, and productive collaboration. With Crestron Flex you can walk into any space, confident you'll have high performance audio/video, easy access to video conferencing, wireless conferencing. Desktops to training rooms, home offices to global headquarters, Crestron Flex connects everyone reliably, expertly, securely, and seamlessly.
An equal seat at the table for everyone–onsite or remote.
For true collaboration, everyone, no matter where they work, must be able to participate equally and fully. For the hybrid workplace, that requires solutions with high fidelity audio and intelligent video. And that's how Crestron Flex Video Conferencing makes sure every meeting is an equitable, engaging, and inclusive experience for everyone.
High performance devices built for every type of space

Phones + Displays
The Crestron Flex Phones with Microsoft Teams® software.
Be heard by a microphone with 3600 pickup
See content clearly on a 10" high resolution touch screen
One touch control to join, manage or launch a meeting
Manage your calendar, contacts, and events
The Microsoft Teams® Displays for Crestron Flex conferencing systems
Access calendar, chat, Microsoft Teams®, channels and files
One touch control to join, manage or launch a meeting
Unlock device with your PC, open files, share screen
Hot desk scheduling integration
Large 10" display
Mini Tabletop + Tabletop
Crestron Flex Mini Tabletop
Easy to use 7" Touchscreen
Every voice is heard by an Integrated quad mics with 10' range
Everyone is seen by an HD camera with 150° viewing angle
Crestron Flex Tabletop
Every word is heard by a microphone with up to 20' range
Instant framing and Full-HD video let remote participants see everyone's face clearly and pick up on non-verbal cues, even from those at the far end of the table
Soundbars + Soundbars Intelligent Video
Crestron Flex Soundbars
Every word is heard by adaptive beam forming mic array with 15' range
Everyone is seen by an HD camera with 150° viewing angle
Whiteboard streaming capabilities
Soundbars with intelligent video
Advanced beamforming technology for more natural sounding conversations
Safety capacity and room usage data for all your rooms simultaneously
Speaker tracking keeps focus on who's talking
Whiteboard streaming in real time so everyone can participate onsite or remote
Wireless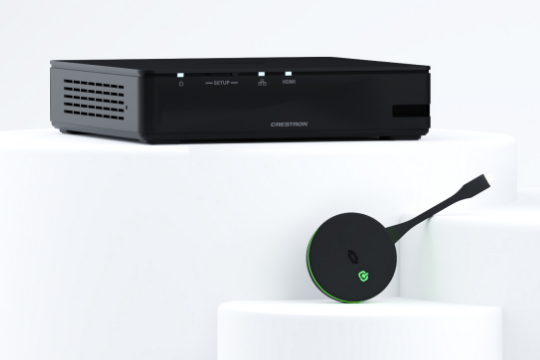 Crestron AirMedia® Wireless Presentation and Conferencing systems
Present from your phone, laptop or other USB-C® device from anywhere in the room
Switch between presenters, for a seamless presentation experience
Enhanced 4K video support for high quality streaming
Connect via the AirMedia network or AirMedia Connect Presentation adaptor for a variety of presentation options
Rooms that work the way you work
Sales meetings, vendor presentations, hybrid meetings–your spaces have to handle it all. Android™ OS or Windows® OS. One touch join Microsoft Teams® or Zoom Rooms™ platforms. The ability to connect and present from any mobile device (BYOD). Crestron Flex makes collaborating from any platform, in any room, seamless.